Formulator Pro - Getting Started
What is the Formulator Pro?
The Formulator Pro is a cosmetic formulation app powered by AI. It allows you to create custom formulas for emulsion-based moisturizers. You can use the Formulator Pro to streamline the R&D and product development phases of bringing new cosmetic products to market.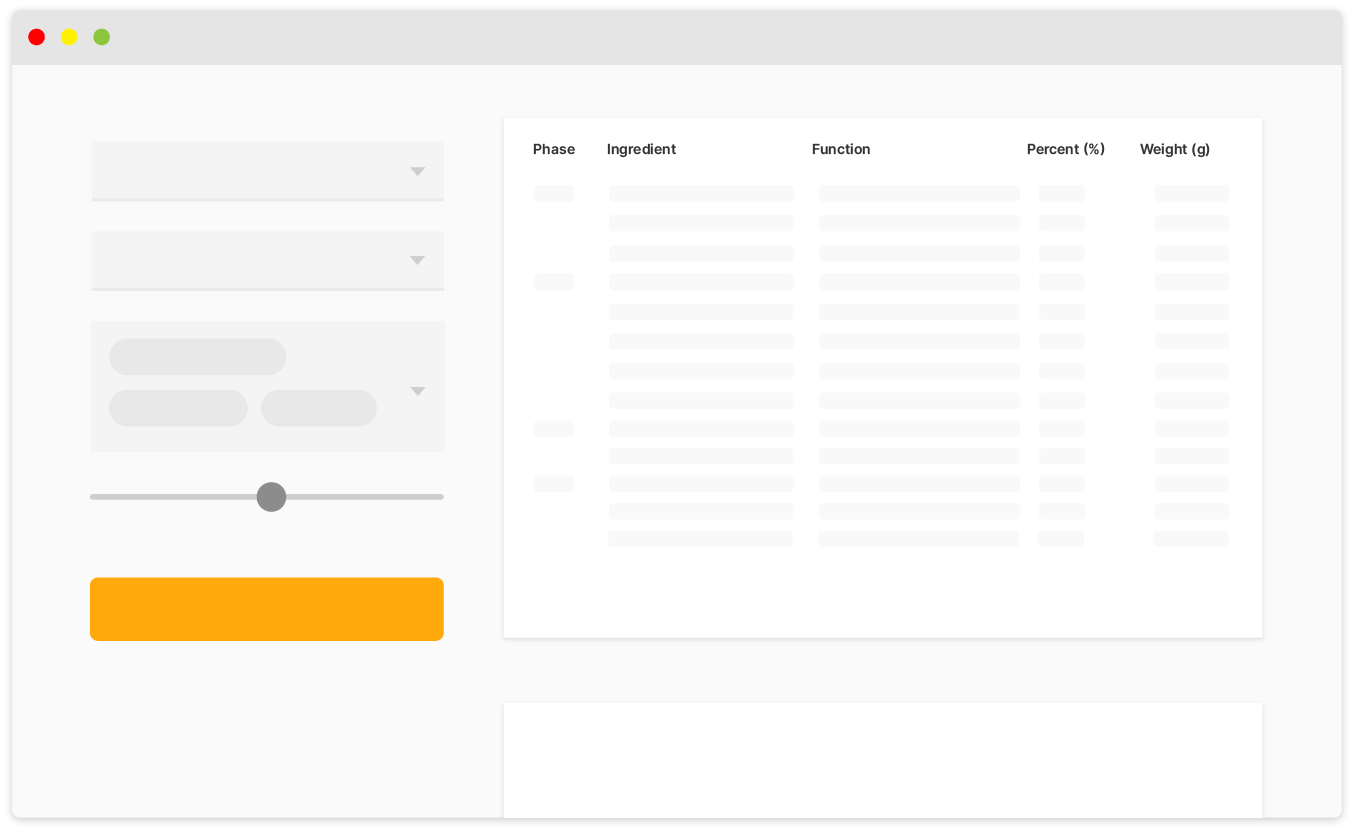 The Formulator Pro can replace formulation spreadsheets and reference books, empowering you to instead focus on defining the key features of your product.
How does it Pro work?
Design your product by specifying the ingredients, properties and features you want. Then click formulate. The app will analyse your requirements and create a custom formulation to achieve your goals. You can choose just a few key ingredients, or you can create a highly-detailed product specification.
The Formulator Pro works as your AI formulation assistant, selecting the best ingredients to meet your specification and maximise the formulation's effectiveness.
What are the results?
The Formulator Pro will produce a full cosmetic formula, with each phase and ingredient clearly laid out. It suggests optimal usage amounts for every ingredient, so you don't have to waste time with percentages and spreadsheets. You can tweak your formula by adjusting the inputs. Once you're satisfied with the formulation, you're ready to proceed with testing your new product. For each formula, a full report is also generated, with details of the formula benefits, the natural/synthetic status of each ingredient, along with other useful information.
Can I sell products made from these formulas?
Yes! You can sell products created from a Formulator Pro formula. Before selling, be sure to perform your usual testing and quality assurance process, and feel free to tweak the formula as necessary. The Formulator Pro takes the guesswork out of ingredient selection and usage guidelines, but real-world product testing is still required.
Can I use the Formulator Pro on my phone/laptop/tablet?
Yes! The Formulator Pro app can be used anywhere – on phones and tablets, or on a laptop or desktop computer. You can also print results or export them as PDFs to use elsewhere.