Cetyl Alcohol
Co-Emulsifier
Thickener
Emollient
Viscosity Enhancer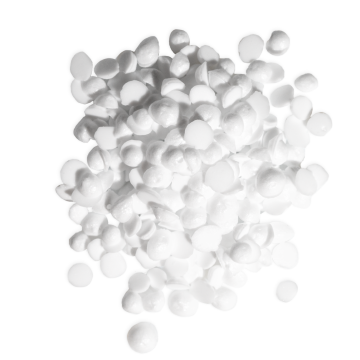 INCI
Cetyl Alcohol
Uses

Thickener and stabiliser in emulsions
Non-greasy emollient
Increases slip and spreadability
Improves texture and overall feel of products

Type
Naturally Derived
Kind
Fatty Alcohol
Also Called

Cetanol
Hexadecanol
Palmityl Alcohol

Optimal pH
suitable for a wide range
Usage Guidelines
1% to 3%
Formulation Stage
Heated oil phase
Form
White waxy pellets
Scent
Mild, barely noticeable odour
Solubility
Oil soluble
Derived From
Palmitic Acid combined with vegetable triglycerides
Products
Creams, Lotions, Body Butters, Bars and Conditioners
What is Cetyl Alcohol?
Cetyl alcohol is a naturally-derived fatty alcohol that acts as an emollient, co-emulsifier and thickener in cosmetic formulation. Derived from palmitic acid and vegetable triglycerides, cetyl alcohol enhances the viscosity of formulas, creating richer and more decadent products with a soft and smooth finish.
Benefits of cetyl alcohol for skin and hair care
Cetyl alcohol has a wide range of uses, making it a great functional ingredient to include in your formulations. It not only stabilises emulsions, but it adds body and texture that helps moisturisers with lower percentages of oil to still feel luxurious. In anhydrous products, it can significantly reduce tackiness and heaviness that can often be associated with oil-based moisturisers.
How to use cetyl alcohol in formulations
For emulsions, a small amount of cetyl alcohol will enhance viscosity and create a more stable formula. When used in conjunction with an emulsifying wax, cetyl alcohol creates a creamier texture whilst still keeping products light. As an emollient, cetyl alcohol can be added to anhydrous and emulsified products in lieu of or in combination with butters to minimise heaviness and create a softer moisturiser.