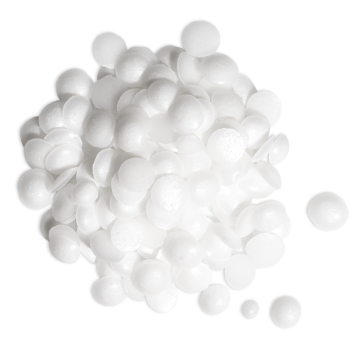 INCI
Emulsifying Wax NF [Cetearyl Alcohol, Polysorbate]
Uses

Excellent self-emulsifying wax
Highly stable, reliable and easy to use
Versatile emulsifier for thin and thick emulsions
Compatible with a wide range of pH values

Type
Synthetic
Kind
Emulsifying Wax
Also Called

Cetearyl Alcohol and Polysorbate

Emulsifier Type
Oil in water (O/W)
Optimal pH
suitable for a wide range
Usage Guidelines
3% to 5%
Formulation Stage
Heated Oil Phase
Form
White waxy pellets
Scent
Odourless
Solubility
Oil soluble
Products
Cream, Lotions, Body Butters and Bars
What is Emulsifying Wax NF?
Emulsifying wax NF is a non-ionic emulsifier for oil in water product formulations, such as creams, lotion, conditioners and serums. It is a combination of cetearyl alcohol and polysorbate 60, which together bind water and oil ingredients to create stable emulsions that won't separate over time.
Benefits of Emulsifying Wax NF for skin and hair care
Emulsifying wax NF is an all-purpose emulsifier that creates stable and creamy emulsions for a wide range of cosmetic products. Depending on its concentration it can make thin or thick emulsions allowing it to be used in lotion and body butter formulas. Emulsifying wax NF is particularly noteworthy for its ease of use and highly stable emulsions. It is possible to add additional ingredients in the cool down stage of a formulation without the risk of de-stabilizing the emulsion.
How to use Emulsifying Wax NF in formulations
Emulsifying wax NF works as both a thickening agent and emulsifier so the final consistency of your product will depend on the amount you use. It is great at making rich and thick creams at relatively low concentrations, and will work well in cream and body butter formulas. Whilst emulsifying wax NF doesn't require a co-emulsifier or additional stabiliser to create emulsions, it can be paired with cetearyl alcohol or cetyl alcohol to further enhance the viscosity of products.