Cetearyl Alcohol
Co-Emulsifier
Thickener
Emollient
Viscosity Enhancer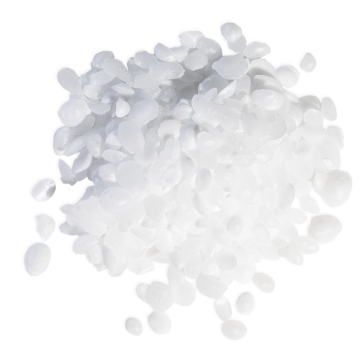 INCI
Cetearyl Alcohol
Uses

Thickener and stabiliser in emulsions
Non-greasy emollient
Increases slip and spreadability
Improves texture and overall feel of products

Type
Naturally Derived
Kind
Fatty Alcohol
Also Called

Cetostearol
C16-18 Alcohol

Optimal pH
suitable for a wide range
Usage Guidelines
1% to 3%
Formulation Stage
Heated oil phase
Form
White translucent waxy pellets
Scent
Mild, barely noticeable odour
Solubility
Oil soluble
Derived From
Palmitic and stearic acids combined with vegetable triglycerides
Products
Creams, Lotions, Body Butters, Bars and Conditioners
What is Cetearyl Alcohol?
Cetearyl alcohol mainly functions as a co-emulsifier, thickener and/or emollient in cosmetic formulations. It is part of a group of 'fatty alcohols' that are derived from synthesising natural components, in this case stearic acid and palmitic acid (found in oils and butters) and vegetable triglycerides. Please note: fatty alcohols such as cetearyl or cetyl alcohol are emollients that do not dry out the skin or have astringent properties like ethanol or isopropyl alcohol.
Benefits of cetearyl alcohol for skin and hair care
Cetearyl alcohol is a multifunctional ingredient that improves the feel, performance and stability of products. For skincare products, the addition of cetearyl alcohol makes luxurious, rich formulas, reducing potential stickiness from oil and butters and creating smooth, light, moisturisers. In haircare, cetearyl alcohol is an important ingredient for increasing spreadability and slip which allows products to glide through hair.
How to use cetearyl alcohol in formulations
Cetearyl alcohol is commonly used as a co-emulsifier and thickener to help stabilise emulsion. It can also be used to supplement the oil phase by reducing the amount of heavy emollients and improving the texture of products. Substituting a percentage of the butter in a formula with cetearyl alcohol will give the moisturiser a pleasant skin-feel, whilst still maintaining its body and texture.