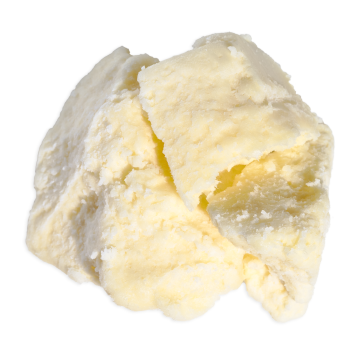 INCI
Butyrospermum Parkii Butter
Uses

Intensely moisturising and conditioning emollient
Skin and hair regenerative properties
Softens, smoothes and repairs damaged skin
Non-comedogenic and suitable for sensitive and allergy prone skin

Type
Natural
Kind
Butter
Usage Guidelines
Up to 30%
Form
Light yellow solid butter, with a soft and smooth texture that is malleable at room temperature
Scent
Fairly strong natural scent that is difficult to mask at high concentrations
Main Composition
Oleic Acid and Stearic Acid
Solubility
Oil soluble
Plant Part
Seed
Products
Body Butters, Creams, Lotions, Balms, Facial moisturisers & Conditioners
Skin Type Recommendations
Dry, sensitive or allergy-prone skin
Melting Point
35˚C
Alternatives
Benefits of Shea Butter for skin and hair care formulations
Shea butter is renowned for its skin healing and regenerative properties, creating rich, creamy products that improve the appearance and texture of hair and skin. Its natural creamy consistency provides a decadent quality to moisturising formulations even in small quantities, making it a versatile butter for both emulsions and anhydrous products. It is one of the few butters that is non-comedogenic and suitable for allergy-prone skin, making it key emollient to include in facial products and sensitive skin moisturisers. For hair care products, shea butter restores skin and lustre to hair but also provides lasting moisture and is especially suited for textured and processed hair. It can also be used in specialty products that aim to deeply nourish and repair skin, as shea butter is shown to have anti-inflammatory properties that can restore impaired barrier function of the skin.
How to use Shea Butter in formulations
Shea butter's nutrient rich composition can present unique challenges in cosmetic formulations. At room temperature it is an incredibly stable butter, but when heated it can lead to textural changes that result in an uneven or grainy final product. To prevent this, include a lower percentage of shea butter in formulations and avoid excessive heating. Shea butter is also a standout choice for body butters and intensive moisturisers due to its effectiveness as a standalone moisturiser and pleasant skin feel. When working with natural butters it is vital that they are melted with indirect heat to minimise excessive or prolonged heat exposure.
Featured Formulations